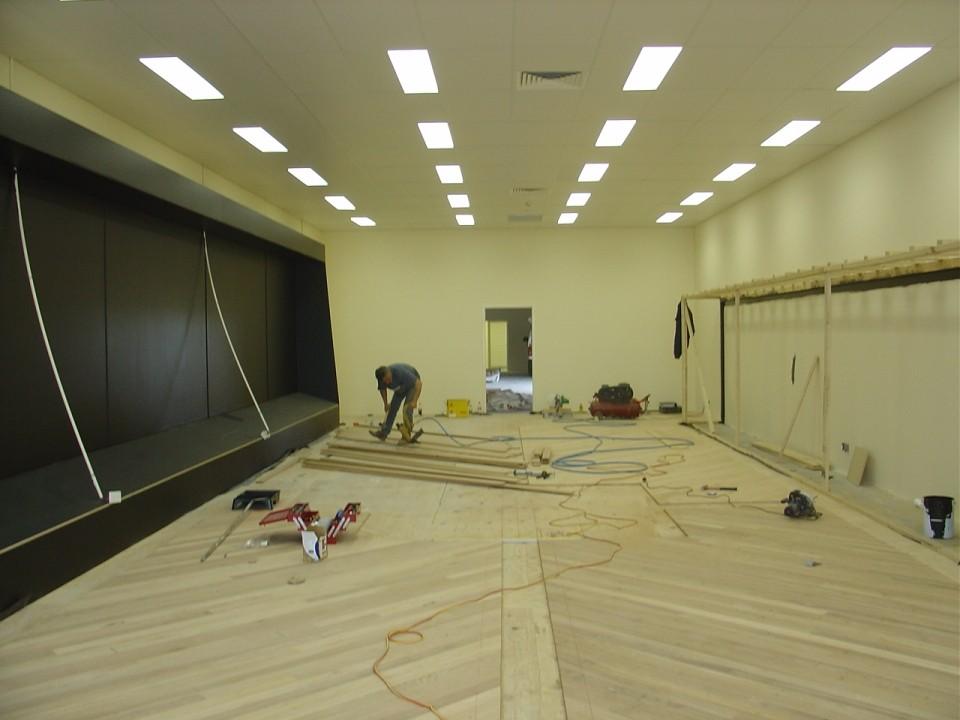 Timber flooring should be installed once all plaster work is complete and all windows and external door openings are sealed.  Also, all sub-floor ventilation should be free from obstacles and all drainage systems should be working correctly to help take water away from the house and sub-floors. This is to stabilise the installation environment.
Timber flooring is kiln dried to Australian Standards which is a moisture content of between 9% and 14%. However Master Floors (Aust) experience suggests the corrected moisture content reading should not exceed 11% at time of installation on premises in Victoria.
Timber is 'hygroscopic' which means it will take on and release moisture during its lifespan as its environment changes. During weather conditions of high humidity timber will absorb moisture from the surrounding air causing it to swell or increase in size. Conversely, during drier times when humidity is low, timber will shrink, reducing in size. Consequently, gapping across a floor can be expected and may be relatively even but actual gap size between individual boards will vary. Wider boards will move more than narrower boards; therefore, gaps are generally wider and more noticeable. Similarly during persistent wet weather or high humidity, floors will tend to expand thus showing fewer gaps and may display minimal cupping.
Localised shrinkage can occur when areas of flooring are exposed to heat sources such as fireplaces, heating & cooling appliances and direct sunlight through large windows or doors, especially from those facing north or North West.
Timber flooring should not be stored outside, it should be kept dry and indoors. Storing the flooring in the actual area of installation is Master Floors (Aust)'s specification.
It is the builder/owners responsibility to ensure that all areas exposed to the elements such as external doors and windows are protected, once the floor is installed. Moisture and direct sunlight will cause the floor to cup or shrink.
All particle board substrates should be sanded to even out high and low spots as well as removing grit and waxes that will ultimately affect the performance of the timber flooring adhesive used.
All concrete slabs should be thoroughly cleaned and in some cases grinded and leveled prior to moisture barrier installation if a direct stick application is used.
No direct stick method should be undertaken without an appropriate moisture barrier. Site conditions change over the year, perimeter of buildings that have garden beds or paving that drains towards the building will take moisture up during wet periods, affecting the performance of installation.
A plastic moisture barrier must be installed prior to any plywood installation.
Plywood should not have a thickness less then 12mm. For stability and integrity.
Plywood's must contain moisture resistant glues within its construction to ensure performance.
Plywood must be mechanically fixed at maximum 450mm centers.
All building must be well ventilated during the summer months and well sealed during the winter months.
Acclimatising is the process of allowing partial equalisation of the moisture content of the timber as supplied to the moisture content to the in-service atmosphere in which the timber is to be installed. It is not always possible to    acclimatise timber successfully due to the time restraints placed on construction in the housing industry. However a moisture content test on the timber flooring and sub-floor in conjunction with a complete site analysis must be carried out and recorded.
Fixing by secret nail method is limited to cover widths of a maximum 85mm. Any widths over this width require surface nailing through the top of the boards. Please note that secret nailed floors will also contain some surface nails in boards adjacent to walls or other areas where access is limited. Secret nail method must be installed with a minimum of 8mm beads of polyurethane type adhesive with a maximum span of 300mm centres and mechanically fixed in between the beads.
Flooring is supplied in random pack lengths. Overlay flooring (12mm & 14mm thick boards) will vary between-0.4M – 3.0M lengths; the average length can be as low as 1.6 meters. Traditional flooring (19mm) will vary between-0.9M – 5.4M lengths; the average length can be as low as 2.1 meters. Master Floors (Aust) cannot control the length of boards supplied or the distribution of certain lengths within a pack. Length sorting must not be undertaken as this affect the appearance of the floor. Boards should be installed randomly, packs should also be blended.
The Master Floors (Aust) preferred and, from experience, best method of installation over a concrete slab, is for the timber flooring to be glued and nailed to a 12mm plywood sub-floor anchored at maximum 450mm centres over 200um black plastic.  This system has a proven to be most successful for Master Floors (Aust).
Parquetry can be installed by direct stick method, but only over a concrete slab that has been coated with an appropriate liquid moisture barrier.
Installation can also be achieved directly over exposed joists using 19mm flooring or over chipboard but the sub-floor ventilation must be adequate and comply with Australian Standards.
Direct to joist type of installation will have squeaking as a normal behavior.
It is preferable to use an engineered timber flooring product over concrete with slab heating due to the possibility of excessive movement of natural timber. Master Floors (Aust) does not recommend installation of solid timber flooring over a heated slab.